Remodeling Services in Saint Clair, Michigan
for Basements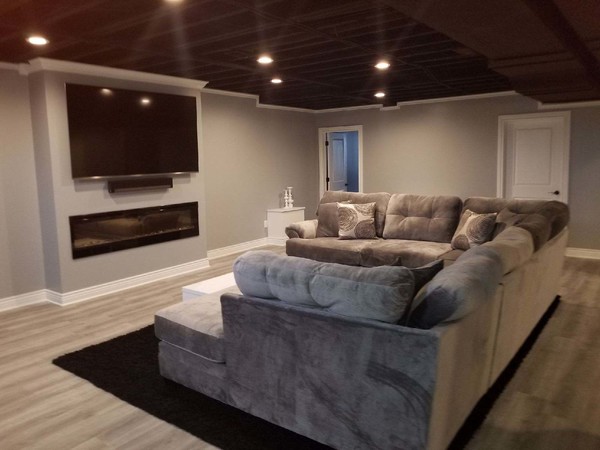 Remodeling your basement in Saint Clair, Michigan involves a lot of decision making, the first being, where to start. Well, you can start by calling Finished Basements LLC. From drawing up a plan to executing the basement remodeling project to adding final touches with custom accent pieces, Finished Basements LLC does it all! Call (586) 842-0040 to strike the perfect balance between what you love now about your home and what new elements you wish to incorporate as you update your basement space.
19% Off All Labor
Call for project size limitations for discount
expires 11/30/2023
---
Call for a Free Consultation
---
★★★★★
"Met with Steve and was very pleasant to deal with, very informative and detailed with the scope of work to be done, finished product was better than I could have imagined. Would recommend them to any friends and family."
- Alex O.
"We have never been beaten in project cost, design details, or craftsmanship in over 23 years of finishing basements!"
Leaders in Basement Remodeling in Saint Clair, MI
Quality interior design and superior craftsmanship have allowed us to build a solid reputation as a favorite basement design and basement remodeler Saint Clair. Your home is your greatest investment. At Finished Basements LLC, our clients are our greatest investment, and what is important to you is equally important to us. Our dependable, detail-oriented Saint Clair basement remodelers will not only work efficiently and precisely but will also treat you and your home with the utmost respect. Call us at (586) 842-0040 when you're ready for your basement remodel in Saint Clair, MI.
Why Choose Finished Basements LLC for Saint Clair Basement Remodeling?
Flexible - From bars to media rooms, to simple makeovers or reconfiguring space. Give us a call at (586) 842-0040. We'd love to hear about your vision for your basement and will help you make it a reality!
Trustworthy - Over the years, we've built a solid reputation as a leading basement designer and basement remodeler in Saint Clair, one customer at a time.
Affordable - We work within a variety of budgets to create beautiful basements in Saint Clair. Call today for a free, in-home consultation.

---
Call for FREE Remodeling Services Quote
Dial Area Code first please.
---
WHAT CUSTOMERS ARE SAYING:
5★★★★★ - "Just wanted to shoot you a note regarding this whole project. Bob has made this entire experience remarkably easy and stress-free for us. He's responsive, on-time, and has truly made this a fun experience rather than a nightmare (as was our home build). I can say I've been pleasantly surprised the entire time. I know he's a very busy man which is why I wanted to reach out and make sure you knew he's doing an awesome job. I've had to make some changes as we've gone through the process, and each one he's been nothing but accommodating while providing suggestions to help us get what we wanted I've recommended you guys to many other people and have shared nothing but praise regarding the company.
Have a great holiday!"

Barb V., Basement Finishing in Harrison Township, MI

2022-08-10

5★★★★★ - "Steve and Bob are great to work with! The job was finished on time and under budget!"

Frank L., Basement Finishing in Harrison Township, MI

2021-04-28

5★★★★★ - "I generally don't like to post so that's why it says Jonn Doe. Steve was very professional from the start of the appointment and through the design layout. Bob, was the project manager and he did a great job leading his team finishing my basement to my expectations and more. He made changes that we asked for without hesitation and he actually added work because he was pickier than us. The overall price beat the other 6 quotes I received. I do my homework when I get work done and they gave me the best price. The options in the quote were great but we did decide to upgrade some of the molding and fixtures and the price still was below the others. Thank your Steve and Bob. Ken from Shelby Twp."

John D., Basement Finishing in Sterling Heights, MI

2021-01-13

5★★★★★ - "Lifestyles Ceramic Tile is the tile supplier for Finished Basement's customers. We have been dealing with Steve for years and have a great working relationship with him."

Jason V., Remodeling Contractor in Harrison Township, MI

2019-09-09

5★★★★★ - "We wanted to thank Steve & his Finished Basements team they did a beautiful job on our finished basement project we will recommend them to all our family & friend Great Job guys Debra"

Debra G., Basement Finishing in Harrison Township, MI

2019-09-09

5★★★★★ - "I appreciate your call today. Trust me when I say your professionalism,
delivery and follow up is unprecedented. I wish more people realized that
regardless of your industry."

Dwight & Wanda, Basement Finishing in Troy, MI

2019-08-08

5★★★★★ - "Hi Steve, My party was a BIG HIT thank you so much for helping me make
my big day a success. Everyone loved the lower level. I have attached a
few pictures THANKS AGAIN!"

Eric & Roz S., Basement Finishing in Oakland Township, MI

2019-08-08

5★★★★★ - "Hello, Steve, I wanted to send you a quick note to thank you for taking the
time to go through my basement this evening & answer all my questions.
Your knowledge, expertise & professionalism can be seen from a mile
away I look forward to hearing from you soon"

Peter G., Basement Finishing in Bloomfield Hills, MI

2019-08-08

5★★★★★ - "Look's great, I appreciate the thoroughness & detail in your work, we have
been very impressed with your work & great detail."

Bill & Lisa, Basement Finishing in Auburn Hills, MI

2019-08-08

5★★★★★ - "I just wanted to tell you again what a pleasure it was to work with your
team…everyone did a great job feel free to use me as a reference."

Glen, Basement Finishing in Troy, MI

2019-08-08

5★★★★★ - "Our entire experience with Finished Basements was awesome! We
absolutely love our basement. We would highly recommend your
company to friends and family."

Andy & Becky, Basement Finishing in Shelby Township, MI

2019-08-08

5★★★★★ - "One of our client's 7-year-old daughter wrote…Thank you for make a good
home good job super work"

Lauren, Basement Finishing in Rochester, MI

2019-08-08

5★★★★★ - "I have built many homes & finished many of my basements. I have never
had a project go so smooth & as engineered as your company has
provided. Also in my past projects, I have not experienced the quality of
work your team has performed. Thank you for your professionalism &
follow up."

Paul & Patty, Basement Finishing in Rochester Hills, MI

2019-08-08

5★★★★★ - "Hi Steve,
I just wanted to send a quick email to let you know that your team did a
phenomenal job. I can honestly say that this is not a finished basement,
but a premium quality lower level of my home. It is actually much nicer
than the main levels. We have already been spending every available
minute hanging out there and neglecting the upstairs. Your team was
very pleasant and great to deal with in every aspect of this process. Their
work ethic, dedication to complete a job, and friendliness were
outstanding.
Thanks for everything…"

Brian & Michelle, Basement Finishing in Northville, MI

2019-08-08

5★★★★★ - "I was extremely impressed by Finished Basements. We received quotes from numerous other contractors, but Steve was clearly the best regarding organization, transparency, and price. Frank was our builder, and we weren't disappointed. He accommodated our requests throughout the process and promised on what he delivered. We now have a fantastic new space for our family."

Adam Kochenderfer (Oakland County Commissioner & Attorney), Basement Finishing in Rochester Hills, MI

2019-08-08

5★★★★★ - "We just had our basement finished by finished basement LLC They did a wonderful job I would definitely recommend them to everyone to friend a family they had the top quality and the perfect price. Steve and Frank and his team they did a wonderful job I would give them five stars and A+ thank you very much"

Homeowner, Basement Finishing in Bloomfield Hills, MI

2019-08-07

5★★★★★ - "Thank you, Steve and Franc for the excellent job on my basement. You met and exceeded my timing, cost and quality targets. I recommend your service to the world. Please take care of the client I sent your way. I am sure you will."

Janti Y., Basement Finishing in Washington Township, MI

2019-08-07

5★★★★★ - "Having a reliable person in charge of finishing our basement into an apartment, and that only the most proficient contractors in each particular trade were used, is what we experienced. Not everything was perfect but close."

Arlene W., Basement Finishing in South Lyon, MI

2019-08-07

5★★★★★ - "they were all amazing and professional we loved our basement they did what we asked and more at a very reasonable price. thank you, everyone, at finished basements."

Danielle N., Basement Finishing in Chesterfield, MI

2019-08-07

5★★★★★ - "I received many quotes while looking for a company to finish my basement. Steve blew the competitors out of the water with his professionalism and itemized quoted. I was fortunate enough to have Chad as my builder. I highly recommend Chad as his professionalism, quality of work, and cleanliness was top notch."

Adam B., Basement Finishing in Rochester Hills, MI

2019-08-07
---
Call for FREE Remodeling Services Quote
Dial Area Code first please.
---